Introduction
Human sparganosis is a rare but increasing emerging food borne zoonosis caused by the plerocercoid larvae. The genus spirometra constitutes several species including S mansonoides, one of the most commonly reported human sparganosis infections in Asia[1]. The lifecycle of spirometra starts with adult worms living in the intestines of dogs and cats and eggs shed in faeces in the environment, while frogs and snakes usually serve as second intermediate hosts[2]. Humans are mainly infected through drinking untreated water containing spirometra larvae, consumption of undercooked frog or snake meat, or using raw flesh on open wounds as traditional poultices[3-7]. Sporadic human sparganosis has been documented worldwide, but the prevalence is higher in Asia countries, especially in China, Thailand, Japan and South Korea[3,5,8,9]. The most common target places in humans for spirometra are subcutaneous tissue or muscle[10], cerebral sparganosis is relatively rare but represents the most severe type[11], characterized by symptoms like seizures and the wandering sign in magnetic resonance imaging (MRI) scanning[12]. Management of cerebral sparganosis includes surgical removal of the worm as well as postoperative anti-parasite medication[13]. However, cerebral sparganosis cases can be cured with medication alone[14]. Cerebral sparganosis has a good prognosis after treatment[13]. Here, we report a case of a cerebral S mansonoides infection and provide a brief review of the literature.
Case report
History and examination
A 29-year-old female patient was admitted to the department of Neurosurgery due to intermittent right upper limb epilepsy and a left parietal lobe lesion. The patient experienced her first seizure attack half a year ago consisting of involuntary movements in the right upper limb. She did not take it seriously and did not take any anti-epileptic drugs (AED) medications. Two months before admission to the hospital, seizures became more severe and she found a migratory nodule under her skin on her right thigh. She had lived in Fujian Province her whole life and enjoyed eating frogs in local restaurants. The people in Fujian Province have a habit of eating frogs, crabs, snake, chicken and pig meat, which are all host animals of the sparganosis. Computed tomography (CT) showed a left parietal lesion with large adjacent edema and the MRI showed an irregular hypointense lesion in T1 weighted imaging (T1WI) and hyperintense signal in T2 weighted imaging (T2WI). The lesion was homogenously enhanced in T1WI and with largeperi-lesion edema. MR perfusion showed increased blood flow in the lesion area while spectroscopy showed an increased peak of choline (Cho) and decreased peak of N-acetyl-aspartate (NAA) [Figure 1]. A cerebral parasitic infection was suspected since the patient was from the endemic area with a previous history of eating undercooked frogs. Blood and cerebrospinal fluid (CSF) samples were sent to the China Institute of Parasite Research for detection, the antibody for S mansonoides was positive in blood sample but negative in CSF sample. Another lumbar puncture was conducted and this time the antibody for S mansonoide was positive in CSF sample. A craniotomy was performed to resect the lesion.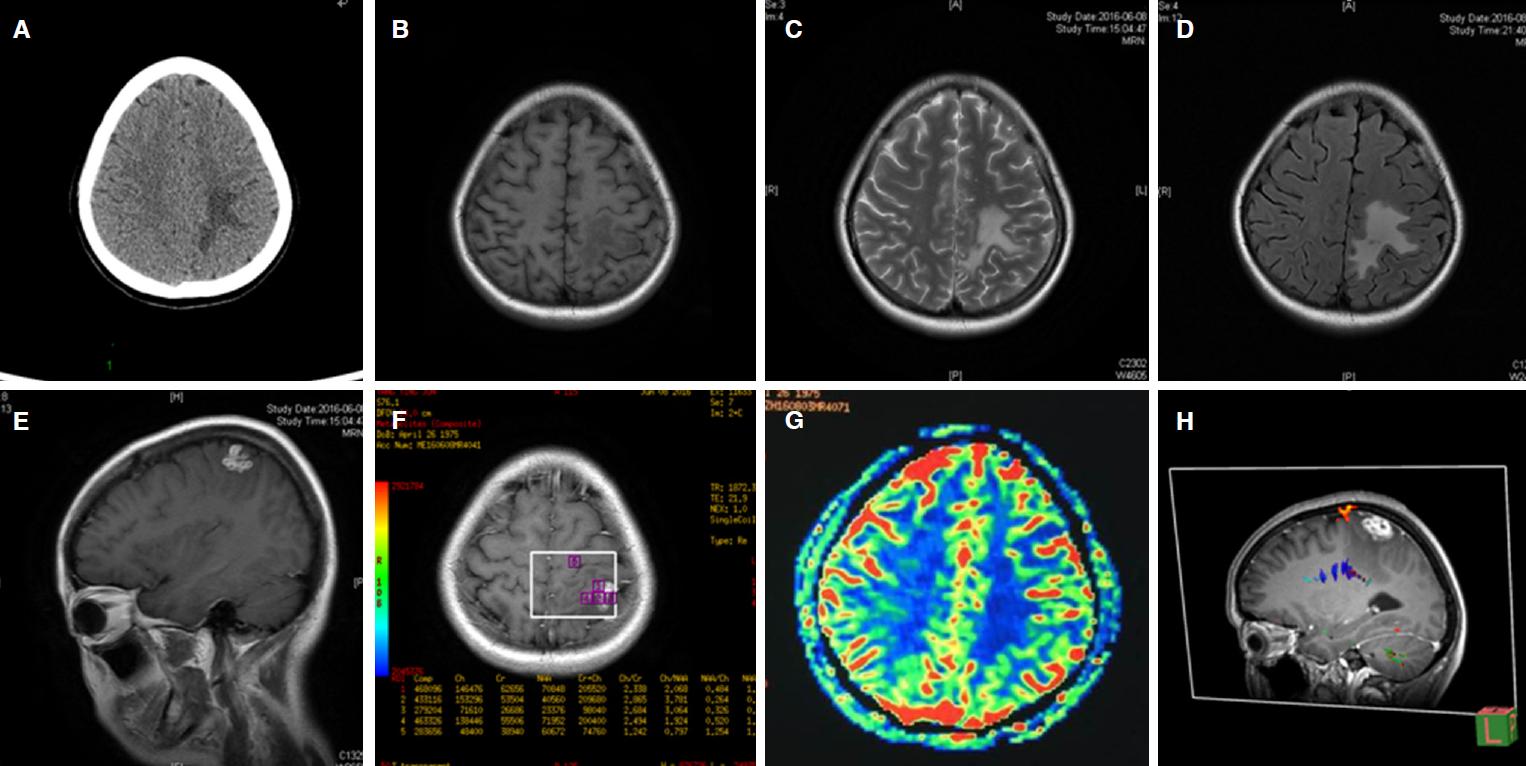 Figure 1. Preoperative radiological features of cerebral sparganosis. A: axial view of CT scanning showed irregular edema of the left parietal lobe; B: axial view of T1WI MRI showed a slight edema of the left parietal lobe; C: axial view of T2WI MRI; D: axial view of FLAIR MRI; E: sagittal view of enhanced T1WI MRI showing an irregular enhanced lesion of the let parietal lobe; F: axial view of enhanced T1WI MRS showed an increase of the Cho/NAA ratio; G: axial view of MR perfuison showed the lesion was hypometabolic; H: sagittal view of preoperative DTI. CT: computed tomography; MRI: magnetic resonance imaging; NAA: N-acetyl-aspartate; T1WI: T1 weighted imaging; DTI: diffusion tensor imaging
Operation
A right parietal under-navigation craniotomy was performed. A white long living parasite was seen and extracted. Postoperative pathology confirmed the diagnosis of S mansonoides. The patient received anti-parasite medication after the surgery, postoperative MRI showed complete resection of the lesion. The patient had no seizures after 6-month follow-up [Figure 2].
Discussion
To investigate the epidemic and clinical characteristics of cerebral sparganosis. We searched Pubmed using the keywords "cerebral sparganosis" and "cerebral sparganosis mansonoide". English literatures with at least abstract available were reviewed.
Declarations
Acknowledgments
We thank Dr. Yin Wang for his professional help in the field of neuro-pathology.
Authors' contributions
Conception and design: H.X. Li, S.H. Luan
Acquisition of data: H.X. Li, W. Guo, L.Y. Hua, H.D. Zhu, H.L. Tang
Analysis and interpretation of data: L.Y. Hua, H.D. Zhu, J.J. Deng
Drafting the article: H.X. Li
Critically revising the article: Q. Xie
Reviewed submitted version of manuscript: X.C. Chen, Y. Gong
Approved the final version of the manuscript on behalf of all authors: Q. Xie, Y. Gong
Statistical analysis: H.X. Li, S.H. Luan Administrative/technical/material support: X.H. Chen Study supervision: Q. Xie, Y. Gong
Financial support and sponsorship
This study was supported by grants from the National Natural Science Foundation of China (81372707 to Y. Gong) and the Science and Technology Commission of Shanghai Municipality (16140903000 to Y. Gong and 15140902200 to H.L. Tang).
Conflicts of interest
There are no conflicts of interest.
Patient consent
Informed consent was obtained from the patient included in the study (KY-2012-019).
Ethics approval
All procedures performed in studies involving human participants were in accordance with the ethical standards of Huashan Hospital, Fudan University and with the 1964 Helsinki declaration and its later amendments or comparable ethical standards.
Copyright
© The Author(s) 2017.