Abstract
After ischemic stroke, proinflammatory molecules known as danger-associated molecular patterns (DAMPs) originating from damaged brain cells recruit and activate immune cells (neutrophils, macrophages, lymphocytes) further eliciting innate and adaptive immunity. During the acute phase from day 1 to day 3 of the stroke onset, macrophages play a major role in the progression of inflammation, promoting the destruction of brain tissue. During the recovery phase, from day 3~4 to day 7 after stroke onset, infiltrating macrophages switch to repairing macrophages, which clear the DAMPs and promote tissue repair by producing neurotrophic factors. Adaptive immunity during the late or chronic phase (> day 7) of stroke has not been well investigated. Recent studies have also indicated that antigen-specific T cells, especially regulatory T cells (Tregs), play major roles in neural repair. This review focuses mainly on the resolution of inflammation and tissue repair by macrophages and Tregs.
Keywords
DAMPs, tissue repair, macrophages regulatory T cells, amphiregulin, IL-33
Introduction
Ischemic cerebral infarction accounts for 70% to 80% of all strokes, which is the leading cause of severe neuropathy, disability and bedriddenness[1]. Ischemic stroke causes the death of nerve cells as well as destruction of neuronal circuits, which leads to movement disorders, higher brain dysfunction, and sensory disturbance. Ischemic damages of the brain tissue further induce cerebral edema and inflammation, which exacerbates the functional prognosis and symptoms of stroke. Although administration of tissue-plasminogen activator reduces ischemic neural damages, this treatment should be instituted within 4.5 h of stroke onset[2]. After this acute stage, no therapeutic drugs should be administered during the late stage of stroke, and following this short period, rehabilitation is the only modality of treatment for functional recovery at present.
Sterile inflammation initially leads to tissue damages[3]. Likewise, in ischemic stroke, brain inflammation causes neural cell death and has been considered to be an attractive target for reducing brain damages not only in experimental rodent models but also in human patients[4-6]. As inflammation occurs within a few days after stroke onset, innate immunity, in which microglia, macrophages, neutrophils, and γδT cells play major role, has been thought to account for neuroinflammation after stroke, where such inflammation disappears after 1 week of stroke onset [Figure 1]. To date, only a small number of studies have investigated the adaptive immunity in stroke, which usually occurs over a week after the onset of the disease or infection[7,8]. However, our group and others have discovered an accumulation of lymphocytes including regulatory T cells (Tregs) in the brain at the chronic phase (more than 2 weeks) after stroke onset. This process has been shown to be involved in neural repair rather than progression of the disease[9-13].
Figure 1. Schematic viewing a time-dependent recruitment of various inflammatory cells into the brain following cerebral ischemia in mice. In this review, we refer to day 1-3 after stroke onset as the acute phase, for days 3-7 being subacute phase, and period after 2 weeks being chronic phase. This figure illustrates the conceptual changes in the population of immune cells, thus the numbers of each immune cell may not necessarily be accurate. Red line; M1 type inflammatory macrophages, green line; M2 type macrophages, gray broken line; γδT cells, pink broken line; Th1 cells and CD8+ T cells, blue line; regulatory T cells (Tregs). IL: interleukin; IGF: insulin growth factor
In this mini-review article, we will focus on the resolution of inflammation and tissue repair of the brain after ischemic stroke.
Inflammation cascade after stroke
In the very acute stage (< 24 h) after stroke onset, the major player involved is infiltrated macrophage, which can be differentiated from bone marrow-derived monocytes. Macrophages are activated by extracellular molecules known as danger-associated molecular patterns (DAMPs), which are released from damaged and dead cells. Infiltrated macrophages at this stage are highly pro-inflammatory and produce cytokines, chemokines and mediators which exacerbate ischemic encephalopathy, leading to dysfunction of the blood brain barrier (BBB)[4,14] [Figures 1 and 2]. HMGB1, S100A8 and S100A9, and peroxiredoxin-family proteins are major DAMPs which activate infiltrated macrophages through toll-like receptor (TLR)-2 and TLR-4[15].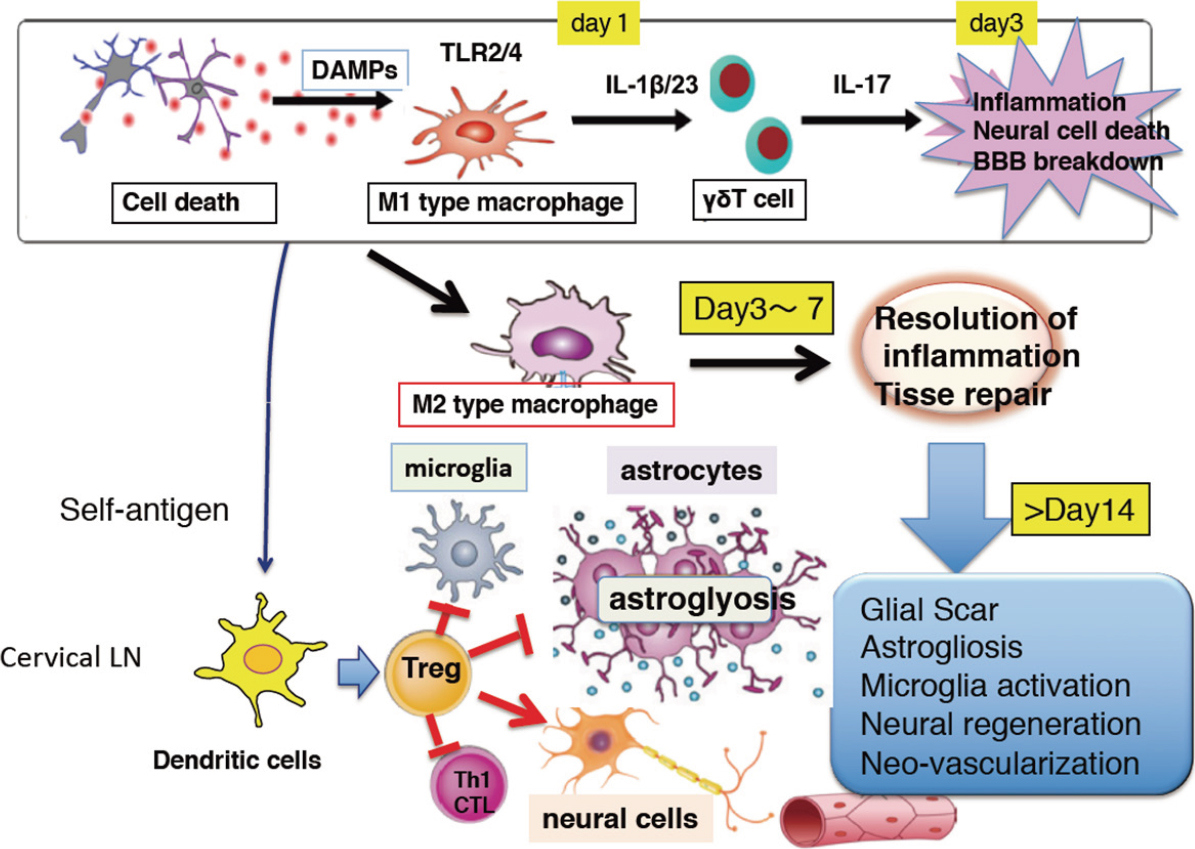 Figure 2. Schematic view of the role of immune cell types in cytokine production, neuroinflammation, and tissue repair. In the early stage of around 24 h, macrophages infiltrate the injured brain and are activated through the TLR2/4 stimulation by molecules known as danger-associated molecular patterns (DAMPs) from necrotic cells. Thereafter, infiltrated macrophages produce inflammatory cytokines and mediators which increase probability of ischemic encephalopathy and blood brain barrier (BBB) destruction. At this stage, macrophages become M1-type inflammatory macrophages. Further on, IL-23 and IL-1β from inflammatory macrophages stimulate IL-17 production from infiltrated γδT cells. After day 3, macrophages are converted into M2-type repairing macrophages which are involved in clearing DAMPs, resolving inflammation, and tissue repair by producing neurotrophic factors such as IGF-1. During the chronic phase, a massive T-cell infiltration occurs. Brain Tregs are attracted via chemokines and proliferate in the cervical lymph node (LN) and the brain. Brain Tregs may thereafter interact with various brain cells including that of microglia, astrocytes, endothelial cells, and neural cells promoting neural cell recovery in th process. IL: interleukin; IGF: insulin growth factor
Among inflammatory cytokines released from macrophages, TNFα, interleukin (IL)-1β, IL-23 have been shown to contribute significantly to brain damages and neural dysfunctions[16-19]. In particular, IL-1β and IL-23 induce IL-17 production from infiltrated γδT cells, further promote inflammation, BBB breakdown, and neuronal damage[19-21]. IL-17 is a cytokine which has been shown to play important pathological roles not only in ischemic stroke, but also in various neuroinflammation including neurodegenerative diseases[22-24]. The inflammasomes, which are necessary for mature IL-1β release, have also been described to cause deterioration in infarct volume resulting in neural defects in stroke patients. Inhibition of inflammasome is shown to be effective for reducing neuroinflammation and subsequently reducing infarct volume increase[20,25].
Resolution mechanism of inflammation after stroke
After 3-4 days post-ischemic stroke onset, inflammatory macrophages termed M1 type macrophages, are converted into repairing macrophages or M2-type macrophages. Repairing macrophages play a role in scavanging tissue debris and necrotic cells, futher supporting neural repair by releasing neurotrophic factors including insulin growth factor (IGF)-I[26][Figure 2]. It has been suggested by some studies that IL-10 and TGF-β from M2-type macrophages and microglia, promoting the resolution of inflammation[27]. Is is not clear whether the same M1 macrophages may convert to M2 type, or M2 macrophages replace M1 type macrophages although an imaging study of infiltrated macrophages in experimental autoimmune encephalomyelitis (EAE) model revealed that single macrophage changes its phenotype from M1 to M2[28]. For clearance of DAMPs, Msr1 (macrophage scavenger receptor-1 or what is known as CD204 or SCARA1) was identified as a major scavanger receptor[29,30]. Msr1 promoter was described to be activated by Maf-b, and an RAR agonist, Am80, upregulating MAF-B expression, therefore promoting Msr1 expression and clearance of DAMPs which ultimately facilitates neurological recovery[29]. Am80 has also been shown to be neuroprotective by activating the PI3-kinase/Akt pathway[31]. Msr1 has been shown in several studies to clear various neurotoxic molecules including amyloid-β thus playing an important neuroprotective role[32,33]. Mannose receptors on infiltrating macrophages have also been reported to be involved in the clearance of DAMPs in focal cortical ischemia[34].
The early activation of microglia in the post-ischemic brain was demonstrated to be neuroprotective by regulating neuronal Ca2+ overload and spread of depolarization. Pharmacological ablation of microglia results in infract size increase and dysregulation of neuronal circuit, while microglia repopulation reverses these effects[35]. The pro-resolving mediators including protectins and resolvins, which have been shown to be neuroprotective. Resolvins reduce neural damage through suppression of leukocyte infiltration, IL-1β expression, and NF-κB activation[36]. Neuroprotectin-D1 similarly reduces infarct volume and diminishes disease burden[37]. LXA4 had also been reported to be neuroprotective by virtue of mitigating astrogliosis, IL-1β, TNFα expression, and neutrophil infiltration. Additionally, it also converts phenotypes of monocytes from inflammatory to an anti-inflammatory and serves functionally to repair tissues[38]. However, the mechanism of resolution (or suppression) of inflammation by microglia and these lipid-mediators remains to be described.
Lack of CCR5 expression has been reported to increase the severity of ischemic brain injury[39]. CCR5 is uniquely expressed in cortical neurons within the damaged brain[40]. CCR5 antagonists accelerate recovery from neurological and cognitive dysfunction. Although various roles of CCR5 in neurons have been reported, the inhibition of CCR5 has been found to suppress astrocyte reactivity and macrophage recruitment[40,41]. Nevertheless, another study has revealed the pathogenic role of CCR5 in cerebral ischemia[42], suggesting that various types of cells may express CCR5 and contribute to both neuronal inflammation and tissue repair of the ischemic brain.
Role of microglia in resolution of inflammation and neural repair
Microglia have been shown to play important roles in neural inflammation, resolution of inflammation and clearance of dead cells in the brain[43]. Since major sources of IL-1β and IL-23 is infiltrated M1 type macrophages originate during the acute phase of inflammation after stroke model[14,20], the contribution of microglia to severe inflammation post stroke is not very clear. Depletion of microglia leads to aggravated neuronal damage and apoptosis after ischemic brain injury, suggesting that microglia plays an important role in neuroprotection[44]. Mechanistically, microglia senses damaged cells through the purinergic receptors (P2X4R, P2X6R, P2X12R) which respond to adenosine triphosphate released from dead cells. The activation of the purinergic receptors initiates neuroprotective responses rather than destructive inflammation through the recruitment of microglia to the point of injury[45,46]. Microglia also express clearance receptors such as Msr1, complement receptors, and receptors for apoptotic cells[32,47]. A recent study shows beneficial effects of repopulating microglia which support adult neurogenesis by augmenting the survival of newborn neurons in traumatic brain injury thorough IL-6 trans-signaling pathways[48]. IGF-1 produced by microglia has been found to be neuroprotective[49]. However, the significance of IGF-1 in neuroinflammation and neuroprotectin remain controversial[50].
Role of lymphocytes in post-ischemic brain inflammation
It has been reported that lymphocytes including T cells and B cells play various roles in the pathophy-siology of stroke[51]. B cells and immunoglobulins are detected within and around the stroke core in a subgroup of stroke and dementia patients, and also in a murine experimental stroke model. Several studies suggest that post-stroke cognitive impairment has been associated with B cell activation and auto-antibody production[52]. Nevertheless, the specific roles of B cells and/or antibodies in neurological deficits and inflammation after ischemic brain injury remain uncertain[53]. Plasma cells in the central nervous system (CNS) of mice with EAE have been shown to originate in the gut and produce IgA, which confers resistance to mice to the effector stage of EAE through the production of IL-10[54]. Interestingly, stroke patients demonstrate a type of auto-immunoreactivity to brain antigens[55].
T cells have been more intensively investigated than B cells. This is mostly because various cytokines, such as IL-10, IL-17, IL-21, IFN-γ, and TNF-α produced from CD4+T cells and/or γδT cells, affect and regulate glial cells, endothelial cells, neural cells, and various immune cells[56,57]. IL-21 is predominantly produced from CD4+T cells, but the role of this particular cytokine in stroke is controversial. In mice, a locus on distal chromosome 7 has been described to contribute variations in post-ischemic cerebral infarct volume, and the IL-21 receptor has been identified as a strong candidate which functions in a neuroprotective manner[58]. However, another study suggested that IL-21 promotes brain injury after stroke in mice[57], thus further research is necessary to clarify the role of IL-21 in brain injury.
The route of infiltration of T cells to the brain is not described clearly. A recent study shows that T cells specifically accumulate within the peri-infarct cortex after stroke and that the ipsilateral choroid plexus plays a key cerebral invasion route for T cells[59]. This study suggests that the CCR2-ligand gradient between cortex and choroid plexus serves as the potential driving force for T cell invasion.
In the experimental cerebral ischemia model, infiltration of subsets of T cells occurs at various time points [Figures 1 and 2]. Many reports indicate that T cells promote brain damage at the early phase of stroke[19,60]. In humans, FTY720 (fingolimod) treatment within 72 h post stroke onset blocks the infiltration of pathogenic T cells into the brain, effectively ameliorating neurological symptoms in the patient[61]. CD8+ T cells may infiltrate within several hours after stroke onset[61]. Nerve-damaging substances such as granzymes and perforin from CD8+T cells can exacerbate the infarction[62]. γδT cells increase immediately after stroke onset and are present in the brain parenchyma accompanied with BBB breakdown. On day 3 after stroke onset, the number of γδT cells reaches its maximum concentrations[19,21]. IL-17 produced from γδT cells promotes neural cell damages in the ischemic penumbra region[19,21,63]. Taken together, γδT cells depletion well as anti-IL-17 neutralizing antibody are shown to suppress ischemic brain injury[19,64]. CD4+T cells and NKT cells infiltrate the brain after 24 h of ischemic stroke[65]. These reports indicate that T cell could serve as a therapeutic target for stroke. However, we should remain cautious that within one week after stroke onset, the number of T cells in the brain is small and represents only a small fraction of infiltrated mononuclear cells[19][Figure 1].
It has been reported that during the acute phase of stroke, Tregs infiltrate the brain, suppressing neuroinflammation, therby reducing the severity of ischemic brain injury[60,66,67]. However, the significance of Tregs in brain injury has become controversial[68,69]. Importantly, the number of Tregs in the brain at this stage is extremely low (less than 100 cells/brain in mice), and antigen-specific activation and proliferation of Tregs may not occur in such a short period (within 3 days), since it usually takes more than a week to raise adaptive immunity in the host [Figures 1 and 2]. Thus, bystander effects, such as paracrine effects of IL-10, may explain an anti-inflammatory role of Tregs at the acute phase.
Accumulation of brain Tregs at the chronic phase of stroke
It is thought that inflammation no longer plays an important role in neural damage and recovery at the chronic phase of stroke (> 7 days after stroke onset). Inflammation is not clearly obvious at this stage. However, compared to the acute phase, Tregs as well as other lymphocytes have been shown to accumulate in substantial quantities in the brain at the chronic phase of the experimental stroke model[9-13] [Figures 1 and 2]. Infiltration of Tregs proceeds with slightly delayed kinetics compared with that of other T cells. Tregs may also infiltrate the spinal cord parenchyma during the subacute to chronic phases in the spinal cord injury model[70]. Tregs consist of approximately 50% of CD4+ T cells, and localize within and around the cerebral infarction lesion. Outside the infarct core area, Tregs remain in close proximity to scar-forming astrocytes and neuronal cells. Treg fractions in the brain are extremely higher that those in other lymphoid organs such as the spleen and lymph nodes. Since CD8+ T cells are also present, about 1/4 to 1/5 of T cells in the brain are calculated as Tregs.
To determine the role of T cells in ischemic brain injury, mice were treated with FTY720 or anti-CD4 antibody during the chronic phase after stroke. Tregs can also be depleted by the use of Foxp3-diphtheria toxin receptor (DTR) mice, where DTR is specifically expressed on Tregs[71]. These treatments drastically reduce the number of CD4+T cells including Tregs in the brain, delaying neurological recovery. These data indicate that brain Tregs at the chronic phase are important for suppressing neurological symptoms[9]. Stubbe et al.[10] observed no changes regarding neurologic outcome if they depleted Tregs through the use of anti-CD25 antibody[10]. Anti-CD25 antibody, however, may not be able to completely deplete Tregs, possibly depleting pathogenic T cells as well[72]. Other studies have also shown that brain Tregs play neuroprotective roles during the late stage of stroke and spinal cord injury models[12,73].
Characterization of brain Tregs
Tregs consist of approximately 10% of CD4+ T cells, located within most lymphoid organs and blood, moving to specific sites of inflammation after immunization. In addition, Tregs have recently been discovered in various tissues besides lymphoid tissues, in steady state conditions as well as during injury. These tissue-residing Tregs are now termed "tissue Tregs", which have a limited TCR repertoire and recognize the self-antigen characteristically expressed in each tissue. Such tissue Tregs exist in fats, muscles, skin, lungs, and intestines, exhibiting similar phenotypes among organs, but are quite different from those of lymphoid tissue[74-78]. The features common to various tissue Tregs are high expressions of Il10, Areg (amphiregulin), Klrg1, Tigit, Il1rl1 (encoding ST2, IL-33 receptor), Ctla4, Irf4, Batf, and Gata3 and low expressions of Bcl2, Tcf7, and Lef1 compared with lymphatic Tregs[74,79]. BATF is shown to be an important regulator for Tregs to accumulate preferentially in several tissues[80]. In addition to the common genes expressed in various tissue Tregs, unique tissue-specific genes are also found in tissue Tregs namely Pparg in fat Tregs. The microenvironment of each organ appears to determine the tissue-specific phenotypes of tissue Tregs.
Like other tissue Tregs, brain Tregs express Helios, which suggests that brain Tregs are derived from the thymus embryonically. Brain Tregs possess a unique TCR repertoire and express high levels of CTLA-4, PD-1, Areg, KLRG1, and ST2, indicating that the brain Tregs share common features of tissue Tregs.
Molecules deeply involved in Treg-mediated neural recovery
Tregs and human CNS inflammatory diseases
Accumulation of Tregs in the human brain of ischemic stroke patients has not been clearly shown. However, a correlation between peripheral blood Treg/Th17 ratio or IL-17/IL-10 levels and stroke prognosis has been reported in human stroke[104-107]. An inverse correlation between the number of Tregs in the peripheral blood and the severity of stroke has also been reported in patients[13,108].
It has been established that neural inflammation plays important roles not only in cerebral infarction, but also in various types of damage to cerebrospinal tissues. These include spinal cord injury, autoimmune diseases such as multiple sclerosis, and in neurodegenerative diseases such as Alzheimer's and Parkinson's diseases. Innate and adaptive immunity may be involved in these neural inflammations. Although Tregs have been shown to infiltrate and accumulate within the CNS[109] of neuroinflammatory diseases, role of Tregs in such diseases have not been well characterized. Since Tregs of MS patients have been shown to proliferate by serotonin stimulation[88], Tregs in the CNS diseases may be similar to the brain Tregs that have been characterized in a murine ischemic stroke model.
Conclusion
In summary, brain macrophages as well as brain Tregs play important roles in the resolution of inflammation and neural recovery. The conversion mechanism from inflammatory macrophages to tissue-repair macrophages and the mechanism of expansion of brain Tregs by recognizing self-antigens in the cervical LN and the brain remain to be described. Neuroprotective factors such as IGF-1 from macrophages and Areg produced by brain Tregs not only suppress excessive activation of microglia and astrocytes, but may also promote neural cell survival and neural stem cell recruitment [Figure 2][110,111]. The molecular mechanisms whereby macrophages and Tregs acquire brain-specific characteristics, including Maf-b/scavenger receptor expression and serotonin receptor expression, respectively, remain to be clarified. Such mechanisms could be used for increasing Tregs in the brain. Identification of brain factors and self-antigens for brain-specific macrophages and Tregs may facilitate the development of therapies for not only cerebral infarction but also other central nervous system diseases. Adoptive transfer of mesenchymal stem cells to the brain has been proposed to treat stroke patients[112]. Similarly autologous Tregs transfer into the brain is also possible for the treatment of cerebral inflammation. It is also important to define the role of brain Tregs in other neurodegenerative disorders and neuroinflammatory diseases.
Declarations
Authors' contributions
Searched literatures and wrote the manuscript: Yoshimura A, Ito M
Availability of data and materials
Not applicable.
Financial support and sponsorship
This work was supported by JSPS KAKENHI (S) JP17H06175, Challenging Research (P) JP18H05376, and AMED-CREST JP20gm1110009 to Yoshimura A, and JSPS KAKENHI 17K15667, 19H04817, and 19K16618, AMED-PRIME 20gm6210012 to Ito M and by the Tomizawa Jun-ichi & Keiko Fund of Molecular Biology Society of Japan for Young Scientists, a Research Grant for Young Investigators by The Mitsubishi Foundation, the Mochida Memorial Foundation for Medical and Pharmaceutical Research, the Takeda Science Foundation, the Uehara Memorial Foundation, the Naito Memorial Foundation, the Kanae Foundation, the SENSHIN Medical Research Foundation, the Astellas Foundation for Research on Metabolic Disorders, an Inoue Research Award, a Life Science Research Award, and Keio Gijuku Academic Developmental Funds.
Conflicts of interest
Both authors declared that there are no conflicts of interest.
Ethical approval and consent to participate
Not applicable.
Consent for publication
Not applicable.
Copyright
© The Author(s) 2020.
Cite This Article
Yoshimura A, Ito M. Resolution of inflammation and repair after ischemic brain injury. Neuroimmunol Neuroinflammation 2020;7:264-76 . http://dx.doi.org/10.20517/2347-8659.2020.22